This time of year (yes, just a couple of weeks into it) tends to correspond with a dip in energy for a lot of folks. Resolutions have been broken, best intentions have been derailed, old patterns have reemerged, and hope seems to wane. This sort of thing also happens after every exciting booking. After each call of "this is a wrap for [INSERT YOUR NAME HERE]" on set. After signing with an agent and then wondering if he remembers you exist.
Dip management is as much a part of your creative career as having contrasting monologues and 16 bars ready, as having your Actors Access profile updated with clips from acting work you've booked, and as having gloriously on-brand headshots with you ALWAYS.
The time to get skilled at handling the dips is before you're in one. Bliss-filled day? Birds singing? Sun shining? Agent calling? Auditions aplenty? (Yay, you!) Time to map out the path back to happiness, before you hit that next dip.
"But Bon!" you say, "How do you know there's gonna be a dip? What if this is my new normal!" Well, this is where I get to be wise because I'm old enough and have been in this business long enough (44 and since age 7, if you're curious) and have worked with enough actors over the years to know that we're constantly navigating growth management and dip management.
Picture a rollercoaster. But with red carpet and paparazzi and Red Vines at crafty.
When you're riding a rollercoaster, you know what you're in for. You can see the climbs, the twists, the drops, and you actually look forward to those low points so that you can catch your breath and brace yourself for the next big climb. Well, just because you don't have the advantage of knowing where you are on the rollercoaster of your life (you could be mid-climb, you could be dip-adjacent, you just can't know 'til it's happening, really) doesn't mean you shouldn't enjoy the downtime of the dips.
Make a deal with yourself that you'll realize you're facing a dip in energy, a shift in momentum, a bit of quiet after all the buzz… and breathe. Relax. Nap. Create a gameplan for the next big thing (because there's always a next big thing).
Managing our spirit during downtime is some of our most important work, as artists. It makes space for our greatest creativity to flow in. It allows time for writing the screenplay that's been begging for your attention. And if you're not strangely eager to FIX something that's not broken (you know, change up your headshots, drop your agent, decide nothing's working so it's all gotta be different), this time can actually be beautifully productive.
Remember that calendar we put together for Scheduling Success? When you're in a dip, don't dick around on Facebook (that's actually the worst place to be when you're feeling low); pull out that calendar and chip away at a goal you mapped out when things weren't so dippy.
Don't toss out all the goodness you've planned for Better You just because you're in a dip. Manage that energy. Reallocate that time toward projects you know need your focus. Enjoy the ride and know the next climb is just another quick twist away.
Ready to grab your very own SMFA Dip Kit (including a pep talk from me)? Have at it!
All my love,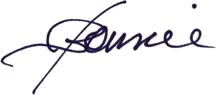 ---
Bonnie Gillespie is living her dreams by helping others figure out how to live theirs. Wanna work with Bon? Start here. Thanks!
---
Originally published by Actors Access at http://more.showfax.com/columns/avoice/archives/001926.html. Please support the many wonderful resources provided by the Breakdown Services family. This posting is the author's personal archive.
(Visited 514 times, 1 visits today)