One of my favorite things to say about Facebook is this: "I have no friends." Seriously. Search me on FB if you'd like. I have no friends.
Okay, technically I have ONE and that's for account recovery/admin tag-teaming in case of lock-out.
First of all, this makes my Facebook feed nothing but joy. I see no one's bullshit or grousing or complaints about anything going on in the world. I don't have a parade of images that upset me or pull me into discussions I needn't see or otherwise send me down a rabbit hole for hours at social media. Ever.
Second, it makes my Facebook visits BUSINESS TRIPS. I don't *go* to Facebook except to do business. So, it's always WORK there. This has cascaded into better boundaries with all other social networking platforms, as I just don't see them as the places I go to catch up, connect with old friends (non-buyers, much of the time, right?!?), opine on politics or social issues, or BE influenced. I see social media as the place I go to connect with buyers, potential buyers, colleagues, my aspirational peer group, and of course to build my brand.
Third, I'm unavailable for easy, lazy, drive-by commenting or side-eyeing about anything going on in my life (things the fam used to LOVE to share their thoughts about, as I grew my baby business into the empire they said would never work). THAT is a major perk. No heckling from the well-meaning public.
The CTJ moment I had with myself was one in which I asked myself if I wanted my tombstone to read, "Here lies Bonnie Gillespie. She saw every post in her feed." Or "She answered every email." Or "She always posted at all the platforms." Or whatever other nonsense thing I was behaving as if mattered sooooooooooo much.
It doesn't. Yes, it MATTERS, but not sooooooooo much. And the gap between the distance of how much it actually matters and how much we BEHAVE as if it matters? That's the real work of it.
How did I unplug?
Gradually. I wrote about it at my blog in a post that covers MOST of the unplugging process here. (Note: That is an OLD post from an OLD server with some OLD links and it's just how I chose — back then — to communicate with folks who'd suddenly see we'd been defriended/unfriended/whatever, so they'd know the why behind the what.)
I didn't go all "scorched earth Facebook" like I did with LinkedIn (and still regret having burned it all down vs. just archiving or privatizing that one), but I did use some really fun criteria for paring down the friends list and over time, it became clear that I needn't see anyone that way. Because OMG if the only thing holding our friendship together is Mark Zuckerberg's website? We weren't all that close after all.
Anyway.
From my friendsless account, I am able to admin my fan pages and groups. I can join groups I want to be a part of so my feed is only ever group posts that relate to — you guessed it — my business. And I'm able to run a bajilliondy Facebook Live broadcasts (which I always crosspost to YouTube because Google; but I keep comments turned off at YouTube because life's too short to chase comments all over the internet — I just encourage "Come over to my Facebook page to chat with us about this!" during the broadcast so the YouTube audience can find me if they really do want to engage [and what a great metric of level of interest a platform-jump is, right?!?]).
I don't do FB DMs and I don't have the FB app on my phone either. I don't get any notifications and I am very clear in what my needs are from the site. Because I know I am not its customer; I am its data. So… I might as well get my needs met too, right? 😉
So… for those who are in a love-hate relationship with Facebook, this is something to consider. There IS another way. 😉
Happy to field any questions about this! If you want to poke around and ask how anything specific was done/is managed, go for it! (I'm highly Googleable but am happy to share links if you prefer.) Thanks for tossing me the question in today's What Works conference. Yay!
I got this done on a break between speakers!
BTW… wanna do "B-School in an hour?" Check out this epic webinar (totally free)… JFDI!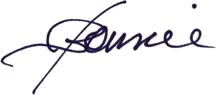 ---
Bonnie Gillespie is living her dreams by helping others figure out how to live theirs. Wanna work with Bon? Start here. Thanks!
(Visited 731 times, 1 visits today)