Today was interesting.
I got up at 5:45am to attend a millionaire mastermind (this is a mastermind the epic Rachel Rodgers hosts monthly for her members who are knockin' on a million but can't seem to get the million to answer the door).
I ate my high-protein breakfast while watching the sun rise and taking notes in my journal (stuff like "If you trusted yourself completely, what would you do?" and "Be willing to let people be wrong about you," and "Every level comes with first-fucking-time fears"). And on a break, I posted in my InstaStories a couple of photos of Rachel and her team, along with another of the brilliant quotes: "Disappoint more people."
Obviously, mindset is key, no matter what block we're facing, at what level, at what time. It's the first chapter in Self-Management for Actors. It's the basis of our Enoughness Journey here. It's the foundation of money-breakthrough work. All of it. Mindset. It matters, it matters, it matters.
I had just posted the "Disappoint more people" directive in my Stories and then checked the mentions section of Instagram.
Someone who has mansplained to me before (he's not the only one, and of course non-males are capable of being dicks on the internet as well) asked me, essentially, if my post was indeed about having bought a new car as a teenager. (Technically, it's the story of my 31-year-old roadster, for which I saved up all my bartending money to make the down payment, and which I still love to drive to this day.)
In response to him, I used this 🙄 emoji, which must be way more offensive than I thought it was, because then he posted that he has unfollowed me on "all of social media" and that he would be burning his copy of my book.
Um.
Okay.
I guess… thanks for the twenty bucks? ¯\_(ツ)_/¯
A short while later, I hosted my own mastermind for the brilliant and creative business owners who are learning how to launch thanks to my 5-step method (you can see it in action for free, here) and the topic of haters came up. What lovely timing!
Specifically, a woman who is crushing it with her consistency in churning out content for her perfect buyers is beginning to see (in addition to SALES) a side-effect of that visibility: haters. Strangers, randos, whackadoodles on the internet coming at her, personally, over something that really isn't about her at all.
(Hint: It's almost always their emotions over a bajilliondy other things in the world and not knowing where to put that energy. And there's a LOT of misplaced rage in the world always, but especially now.)
I laid down a truth so true I had to take it on a tour of truth from your inbox via BonBlast to my blog: Once you're talented in front of others, crazy knows where you live. (Tweet it.)
You cannot escape the swipes of others — that often have NOTHING TO DO WITH YOU — once you live a visible life. And a visible life means you live. In the world. And have a voice. And use it. Ever.
It just happens to be more jarring and more publicly out there when you've chosen to bring your talents out into the world.
Do I get into it with some rando who got his feelings hurt over an emoji or who *actually* thinks a post about how I still to this day drive the one and only new car I ever bought — 31 years ago — is a post about white privilege? Do I try and teach Reading Comprehension for Instagram to make sure he understood the caption (clearly, he didn't read the whole thing)? Biggest question of all: Do I let his actions (whether he ends up burning the book he bought or not) CHANGE ME? Change how I show up in the world? Make me edit my enoughness?
Of course, the answer to all of those questions is NO.
Absolutely, take in feedback from those who have in their hearts your best interest, your growth, your badassery and the desire to get you as far as you can possibly go in the world. Absolutely, take direction from those in roles to help guide you, even sometimes with tough love.
But whatever you do, do not let the online temper tantrum of someone you've never met cause you to doubt yourself, change your drive to share your talents with the world, or make you rethink the VALUE in what it is you have to share.
How do you handle haters? Comments are open below! I'd love to hear from you. Because even if you don't have 'em yet, you WILL. Because being confidently talented in front of others is a magnet for EVERYONE… including those who are afraid to let their talent shine as brightly as you do. And their energy has to go somewhere.
Keep shining, y'all. Check out my free business training here.
You've got this!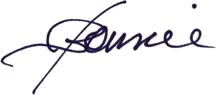 ---
Enoughness is an inside job… and sometimes you need a guide to find your way there. Let Bonnie Gillespie get you started.
(Visited 572 times, 1 visits today)