I was watching a very cool documentary over the weekend about a famous feature film and there was a whole segment that got me fired up about what a freakin' great idea this is.
It's not the first time I've heard of this happening or even experienced it in my own life, but it was so incredibly clear that I knew I couldn't wait to share it with you.
The idea is to lean into your weaknesses.
Stick with me. 😉
So, there was this musical number in the film and one of the principal actors isn't that much of a dancer but all cast members had to be dancing so she was doing her best to keep her moves small enough not to distract from those in the cast who actually CAN dance. (OMG, this has so been me. Where's my jazz square at?!?)
At one point, she did something *so* wrong that it caused her to bonk heads with someone else who was doing the move correctly (and in the right direction). Blammo! They're seeing stars and of course laughing because it's all so ridiculous.
The choreographer comes over to the pair after a while and says, "That thing you did a few run-throughs back. With you going the wrong way and the two of you colliding? Let's USE that. Can we?" Then she looked directly at the "moves well but can't really dance" actor who's responsible for the situation and said, "Don't TRY to be good at this. Just do what comes naturally."
Again, the actors fell into laughter because OMG what a hoot that piece of direction had the potential to be, right?
But they did it… and a moment of cinematic history was born.
Just like that — by embracing imperfection, by going with what's natural, by leaning into her weakness — the BETTER outcome was revealed.
Where can you lean into a weakness today?
Take something that you're generally not all that great at… consider letting THAT be the way you do a thing for a change rather than pushing against it, trying to hide it, hoping no one will notice it while you KEEP using the over-developed Popeye-sized muscles you have for "that thing that always works" in your life.
Places I've leaned into my weaknesses and had massive payoffs:
~ launching at 85% (I used to see 99% as a reason to beat myself up for not scoring a 100)
~ dancing (I would avoid it like the plague… then I became a pole fitness junkie in my 40s!)
~ cooking ("I burn water" was the lie I told myself 'til Whole30 changed my life forever)
~ being sober (boy, did I used to suck at that)
~ relationships (my love life was filled with 9-month to 18-month long courtships)
What are some of your weaknesses? Can you find an excuse to lean INTO one instead of pushing away from it today?
Share with me if you're willing to give this a try! Comments are open just below.
On Wednesday, I'll be livestreaming at 11:30am PDT (translate that to your timezone) and I'd love for you to join me over at Facebook or at YouTube. We'll dive in on how you're leaning on your weaknesses, I'll share a bit about my new ventures (SO! EXCITED!), and of course, you can ask me anything live and I'll do my best to help! (Scroll down for the replay.)
Stay inspired, you glorious creature. There's so much important work to do!
So much love flowing your way,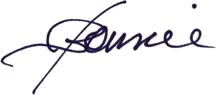 ---
Enoughness is an inside job… and sometimes you need a guide to find your way there. Let Bonnie Gillespie get you started.

Lean into your WEAKNESSES with Bonnie Gillespie
(Visited 163 times, 1 visits today)