In our Expansive Capacity meeting today one of the beautiful masterminders asked, "How do we give ourselves permission to be our fullest selves in a world where there are people who want us dead because of the color of our skin? Where we were taught as kids what to say and how to act to escape as much conflict as possible? To survive?"
I said — especially when we're dealing with anything that has a lifetime of practice and ESPECIALLY when the stakes are so high — the work is nested circles.
People have two needs. Attachment and authenticity. When authenticity threatens attachment, attachment trumps authenticity. — Dr. Gabor Maté
There's the circle in which you feel safest to be your authentic, fullest, highest-enoughness self (and for someone like my husband Keith, diagnosed with paranoia, that means his safest circle is often ONLY himself and sometimes that doesn't even feel safe to him). Some of us will let others into our SELF circle. Most will not. For those folks, there's an intimate circle, and that's where one or two others can feel safe enough to see you in your full enoughness.
Then there's the circle just beyond that with friendlies where you can be a toned down version of your fullest self, or maybe this circle is one in which you feel safe letting people know there IS this fullest self you don't feel safe to show everywhere. The fact that they even get to know that is a pretty big deal. So we treat these folks differently than we treat strangers (more on those folks in a second).
So, the circles go out from there 'til we get to ones in which you're not safe to BE.
Let's take the example of being a woman and being told we cannot dress or move our bodies the way we want to because it will invite unwanted sexual attention. Not just being TOLD this; having it as our lived experience. Every woman has received unwanted sexual attention. Just for being female.
There's a circle in which it's safe to be ourselves, another in which we can dress as we wish but all know it's only because it's safe there, another where we don't even talk about wanting to dress that way or move that way so as not to draw attention on THAT, and the there's the population around whom we're not safe no matter what we're wearing. We're targets. We're prey.
And almost everyone has some relationship like this though usually not with the cost of potential death as the most extreme circle… unless you're Black in America. Because then that circle is ALWAYS there.
(Not sure if you've noticed, but you also kind of cannot edit your authentic self — no matter how "safe" you make your behaviors, no matter how deeply you tuck in your enoughness and truest self — to the point at which a known threat does not notice you are, in fact, Black.)
Click to enbiggen.
Bonus: If you're a white, cis-het, straight male, you've likely never had a circle that's even mildly uncomfortable by comparison to how you feel in your own center circle, right? Your center circle (SELF) is the same way you show up in all the circles. You rarely self-edit or tuck in who you are. You don't have to! Must be nice.
The advantage this person has is beyond all the ones we already know about in our society. I won't bother listing those (just look around you). When it's not risky to be your authentic self or even potentially fatal to be SEEN, you can be your authentic self pretty much all the time.
When you get to live like that without any worry for your safety, you have more power, more time in the day (because you're not constantly shifting between personas after checking to determine which persona is required for the situation/environment), can get more done with confidence, feel less risk around taking risks (which allows for far more expansion of your crazy ideas, more success, because there are more tries with this setpoint), and so on.
But when you live like that — unless you are incredibly evolved and connected to people whose circles aren't labeled like yours — there's this lack of empathy that there even IS such a thing as a circle or nested circles to navigate! Because in your white, cis-het, straight male life, there is just being. No set of circles with levels of behavior-edits required for you to stay safe. No levels of risk in even being visible.
We need to know each other's circles. We need to respect that one another's circles are different. And — in navigating our own circles — we need to know that the boundaries are permeable. We need to reassess who belongs in which circle from time to time. We need to consider that our need to protect ourselves may increase or decrease over time.
And of course, there's that exhausting work of navigating circles that are so damn different from inner to outer.
(BTW, this explains why we'll stay safe and small, or surround ourselves with the same people rather than pushing through to grow and change in life sometimes. It's just less FATIGUING to stay in the circles that are easier to navigate without code switching.)
Our work is to acknowledge that there are nested circles for a whole lot of people and that many of the levels look different than ours do… and that we may not even really have these levels because it's safe to be our authentic selves in front of everyone. (Lucky us.) Our work is to help people who invite us into one of their circles know that:
~ we are safe;
~ we see their circle structure and understand where we are in it today;
~ we are open to sitting in the discomfort of seeing their authentic selves incrementally and more fully as we ALL get more accustomed to making it safe for everyone to have less of a need for personas as we navigate our lives.
Specifically — with our Black friends — it is vitally important that we really SIT WITH the truth of what those outer circles of safety ARE for them.
The highest stakes thing in the outermost circle for me is rape.
For my Black friends? It's murder. Plus rape, of course, for many of them too.
Because the white, cis-het, straight male won't likely know the reality of either of ours, he cannot make changes that help us feel safe.
SafeR? Maybe. But not likely ever fully safe.
I think just the fact that we have to look to the oppressor FOR the outer circle to become safe is so twisted.
Of course in my lifetime, I'm gonna see white become a minority population in the US. This will be a great way to learn experientially that to be in the minority does not mean to be oppressed… unless of course you're the current white/majority/oppressor we know well… and of course that's why the worst of them sooooo fear losing that control. In their reality, he who has the majority keeps everyone else oppressed.
They cannot even imagine a world in which majorities can live alongside minorities and have the same rights… only have a difference in population size, not treatment.
Luckily, we'll get to prove that this world is possible. That we CAN be populations of different quantities and NOT fear loss of status and position so much that we — when in power — create ways to prevent anyone else from potentially even competing with our status and position.
Total tangent that I promise to resolve: I love playing Words With Friends. I'm really good at it. And I celebrate playing with really good opponents. They make me better. I make them better. We LOVE a good game and we cheer one another on when either of us makes a spectacular play.
I believe we can — and will — live to enjoy competition without it seeming as though we worry ours will be taken from us if we yield even the tiniest margin of leverage. I've always been more of a stoic and a socialist, honestly, but I also don't feel my opportunity to succeed is lessened by someone else's success, even in a capitalist society.
Let's start working toward a world in which we all get to be our fullest selves, brimming with our inherent enoughness, no matter whom we're with.
Of course… at the basis of *this* lives the scary mirror we may never want to look into. Because many of us may be avoiding being our authentic selves even when we're alone. I know that was me before I got sober. I would pour vodka on anything confronting about my personality, my needs, my desires, my pains, my history.
Here's the work: Excavate our own enoughness. Get down with who we are, at our core. All the mess. All the stuff we think others won't accept. WE have to be the ones who accept it all first.
From there, really consider where you are in your Circles of Safety as you navigate through your life, day to day. With your intimates, work to expand authenticity together. With your friendlies, create experiments in which it's safe for each of you to increase the level of authenticity you bring to your interactions.
With strangers, get good at quickly and dispassionately labeling whether someone here will get promoted to "friendlies" status or if perhaps they're going to be a known risk. NOTE: It doesn't matter whether they're unintentionally risky (they're ignorant to their "othering" of you or of their "making you wrong" for who you are or how you self-express) or they're intentionally and actively racist or misogynistic or bigoted or homophobic or transphobic or ableist or any other overtly-positioned threat to your true self. It's ALL stuff that goes in the "known risks" outer circle. LIMIT YOUR EXPOSURE AND DO WHAT YOU MUST TO STAY SAFE.
And over time, reassess, relabel, respect that we ALL can grow. Especially right now. We're experiencing exponential growth on the daily. And it's so freakin' exciting from a neuroplasticity perspective!! But that's another post for another day.
Share your thoughts with me, beautiful people. Be as authentic as you feel safe being, with me.
I love you for taking on this work. It's courageous and so are you!
Keep growing,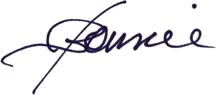 ---
Enoughness is an inside job… and sometimes you need a guide to find your way there. Let Bonnie Gillespie get you started.
PS — Based off this brilliance, we had a lovely convo during our Get in Gear for the Next Tier monthly Zoom the day after I made this post. What follows is that audio from that discussion.
Thank you, ninjas, for always inviting the tough conversations. This is the work! Stay inspired!
(Visited 848 times, 1 visits today)