Hello you beautiful people!
It seems I was just landing at LAX after all my gallivanting and I'm headed there again. Only this time, I'm just dropping off the hubs.
He's headed to Hawaii with his sister to scatter the ashes of his nephew. A teenager killed in a car accident no one can make sense of.
And as I sat down to write today's BonBlast, I thought about how often we'll put things on hold for our careers.
I thought of all the emails I've received over the years from actors trying to figure out when to take time off. When the best time to be out of town might be. When agents will be LEAST disappointed to learn you're booked out. When things slow down the most.
Thing is, someone's getting cast somewhere every damn day. So, if that might've been you, it doesn't matter how slow it is, right?
What's important is your ability to live your life. Celebrate the moments that happen in "real life" without regard for what the odds are that you'll miss out on some big break while you're away.
Take your travel-sized self-tape set-up. Make sure you're checking in often enough to get an audition turned around while out of town if you have to. But don't live and die by some "season" in casting or all the what-ifs that this business is made up of.
You have nothing to draw from if you have no experiences outside of what goes on in showbiz. And life's so much bigger than all of that.
Don't get me wrong — entertainment is of great value. Artists heal the world, after all.
But it's all too easy to get caught up in the busyness of this business. Don't. Or… if you DO happen to let it all sweep you up from time to time, just be sure to stop. Take a breath. Remember why you've chosen this creative path. And take time to enjoy the people for whom you're trying to create all this art in the first place.
A quick note to those who've been looking forward to our annual "black Friday, small business Saturday, cyber Monday" sale: We won't be adding to your inbox clutter this year.
If you want a deal, here's a heads up that we'll be increasing the price on our life-changing 100-day challenge Get in Gear for the Next Tier at year-end. So, if kicking off 2019 with us for 100 straight days of inspiration, Self-Management for Actors curriculum, and community support like none other is on your wishlist, plan to join BEFORE 2018 ends to get our best price!
But that's all we've got to share in this "sell, sell, sell" weekend, here at Team Cricket Feet. We're gonna be keeping things a little quiet. Lighting a candle. Setting some intentions. Being purposeful.
Here's hoping you're surrounded with love… and adding to the love in the world a little bit every day.
XO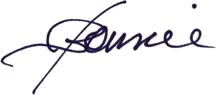 ---
Bonnie Gillespie is living her dreams by helping others figure out how to live theirs. Wanna work with Bon? Start here. Thanks!
(Visited 195 times, 1 visits today)