So, I'm really bad at saying no.
That's not entirely true. I actually do a decent job of saying it. I always try to remain transparent about my process in having come to the decision that is NO (because, believe me, I know that a NO you don't understand can smart like the dickens, and as much as you might dislike the NO that you do understand, at least it gives you a starting point for either fixing the issue for next time or knowing where to go from here. I guess that comes from the former life as an actor thing. I never want to say no to an actor without providing some measure of feedback — even if the only feedback is, "You rock. We'll get you on the next one").
Anyway.
I mentioned the whole five-projects-in-the-queue waiting for bids for casting services thing, right? And I just had to say no to one, outright. And usually when I say no, I try to include a good list of casting colleagues who might be a better match for the project. I look to help a casting associate friend who is looking to build up credits as full CD. I always try to leave a situation at least a wee bit better than I found it. At least with a lead. Or something.
But I don't even have time to do that anymore. Ack!
And somehow I feel really, really bad about that. Same way I feel bad about creating enforcing a whole big section of my FAQ. I WANT to have time to answer all of my email. I WANT to give every newbie actor who asks advice on how to make it (or at least how to start).
And even though I am constantly reminded by those who know me best that the only way to have anything to give at the more public venues is to begin to limit that giving to those places, I somehow still feel like crap when I have to say no. Again.
I realize — assuming Mr. Superagent and I hit it off in person on Tuesday and I start filtering all of my stuffs through him — that I'll soon be met with the business end of a shitstorm, potentially. And if it's not now, it's soon enough. There are people who have become so accustomed to being able to reach me that — as I've mentioned before — this shift will not be pleasant.
At 2am, on the way back from the gym (that's another story for another time), I mentioned to Keith that I think this is kind of like that whole, "My favorite actor who used to come in and preread for me suddenly got his own series and now his email address and phone number have been changed, his Actors Access account is now managed by his 'people,' and while he'd probably be happy to 'take a meeting' about a role I'm casting, the days of point-to-point contact are over," except that I'm living it. And I'm sharing it (because, y'know, I'm all out about my damage and stuff).
That doesn't mean it's going to be any more gentle a transition for anyone… just that I'm sitting here commenting on what's changing as it changes (and dammit, if that's not what a blog is for, I don't know what is… I mean… other than sharing cute animal photos and popular memes).
SPEAKING of the word NO. Um… just NO. Really. Just. NO.
PS — Photo of big time agency conference table is from Endeavor (NOT the location of my hopefully future Mr. Superagent meeting, uh, NO. I like *kind* superagents, thankyouverymuch).
PPS — Houstons has the best fucking sushi on the planet and I could eat it all day, every day, and then some more. Holy crap, this stuff is delish! (Note: take-out is only available from 2pm to 5pm Monday through Friday. Probably for the best, or I'd eat it every day for lunch. I am not kidding.) Suddenly feeling a bit like Jane Espenson, with the lunch coda. Hee!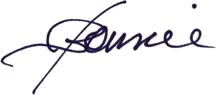 ---
Bonnie Gillespie is living her dreams by helping others figure out how to live theirs. Wanna work with Bon? Start here. Thanks!
(Visited 82 times, 1 visits today)