In March of 2013 — fresh off my life's first major surgery — I sat in the speakers' lounge at SXSW and checked my email.
One of my Self-Management for Actors students offered me tuition to the upcoming Tony Robbins' Unleash the Power Within weekend in Los Angeles. I took it as a sign. Here I was bravely traveling way earlier than I had been cleared to do so by my surgeon and the reward was this offer. I said yes.
Due to my physical limitations, there was plenty I was not equipped to do (*ahem*, walk on fire? Yeah. Bad idea for my adrenals at this time) and I only experienced about half of the amazing weekend in Downtown LA (even got a room at The Standard so as not to spend hours driving each way each night and day so I *could* experience as much as possible and have the ability to take naps throughout the day in my hotel room or poolside on the roof of the gorgeous hotel).
Yeah, I wanna experience another Tony Robbins course at a time when my body isn't fighting having been invaded first by a growth and next by a surgeon trying to protect me from that growth, but I'm still so very grateful for what I *was* able to enjoy about this bizarre and intense weekend downtown.
Here's the big takeaway — and it's so big that three years later its impact in my life is clear.
There are six human needs that are met by all our choices and behavior.
When we meet any THREE of these needs with ONE efficient behavior, we risk addiction. It's too easy for that ONE behavior to create a payoff of too many human needs.
From Tony's website:
And from my notes (which seem to feel more effective at describing the impact this had on me than what I see in visiting Tony's site now, three years later):
In making this list, I knew that CERTAINTY was my #1. I grew up in a single-parent household after having had a very stable first few years. The chaos that followed caused me to cling to anything predictable. My OCD patterns emerged as a response to having no idea how we were going to survive and feeling out of control in my ability to help.
If you can assure me how things are going to be, I feel safe.
My secondary — as I wrote these words in March of 2013 — was SIGNIFICANCE. Keith and I always joked about how he believes we can give to others without getting credit and how I believe without getting credit the give is useless. NOTE: I am saying this in the past tense. THIS HAS CHANGED in my life.
My most dormant from this list three years ago was LOVE.
Wow.
How fucked up is that?
I'm not saying it's better to be motivated by love than by the ego-twisted significance, but for the LAST of the six to be LOVE? No wonder I've spent my whole life sure I need NO ONE (and that anyone has been able to stick around in my life has been the result of their stubbornness winning over mine, nothing more).
Yeah.
This had to get fixed up. And fast.
Here I am on the other side of this list by almost three years and here's what I can tell you: My new primary and secondary needs are GROWTH and CONTRIBUTION.
I try new things because they delight me. I challenge myself because it's fun to see what might happen next. I surround myself with people whose intellect and charisma make it fun to "yes, and…" one another. I love to GROW through my every interaction. I'm not afraid of being changed. Not anymore. Man, I used to be!
I no longer care whether I ever get thanked when someone whose life I've affected holds up something gold and shiny. Sure, it's fun when it happens but I no longer need the praise. I know what I've created. I know what I've built. I know who I am in the world. I have contributed. Good. I'm leaving this world a better place than I found it. No one can take that away from me.
Certainty is comforting and I can still see myself gravitating to its pull because of how dominant this force has been in my life for decades. Now and then my ego will ask me to be significant and I'll correct it by assuring it that contribution is the better cause. Keith is in my life as a constant source of uncertainty (OMG, to live with a Pisces who celebrates "the eternal NOW of dog-time" is so challenging to a formerly-certainty-driven gal).
And wouldn't you know it? LOVE has become a much bigger part of the equation, though still not my top two. It doesn't need to be. The bliss I get from growing while I contribute surrounds me with more love than I ever could have expected.
Holy shit. My life changed when I learned all of this at the age of 42 and I love that I know it can continue to change every day if I invite it in.
This is one of the reasons I love working with artists. We're not afraid of change. In fact, we thrive on it.
I am so gratified by this life lesson — whether or not I got the firewalk that accompanies it — that I just had to share it with you today.
What are your primary and secondary motivators? More importantly: What would you LIKE for them to be?
Now make it happen!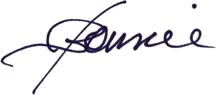 ---
Bonnie Gillespie is living her dreams by helping others figure out how to live theirs. Wanna work with Bon? Start here. Thanks!
(Visited 410 times, 1 visits today)