I had noticed a pattern.
I was sending emails and texts to my closest friends and I was saying things that I don't normally say.
Stuff about how hard things have been. Stuff about the "piling on" that was my data loss at the hands of iCloud, the loss of my dear friend, the end of 16+ years of having a weekly column, having rolled my ankle TWICE in November and being totally out of my beloved pole classes right now (leaving me mushy and filled with energy I usually burn off in four 600+ calorie workouts per week)… STUFF.
None of this stuff was coming from a very positive place.
Call it year-end malaise. Call it holiday funk. Call it a whole bunch of not-so-great stuff happening right in a row after having had a spectacular year… for nine months.
A shitty finish is never fun — especially when everyone else out there is celebrating the year, toasting the new exciting things to come, posting photos of all their WINS.
Now, when I write about the fact that this business is just sometimes damn hard, I have advisors who recommend I take the posts down. (This post in particular had a mentor of mine VERY worried that I would never again have a job in showbiz, because I revealed too much about how hard it can be.)
But today, over lunch with one of my besties, we talked about the Fancy Folks who never post a multi-tweet rant, who never cry in public, who never hint that they may be going through something scary, who never make this business look hard.
Y'know what? Fuck them.
They're lying to you. This business *is* hard. And I think it's totally unfair to reach a certain tier in this glorious industry of ours and then LIE TO EVERYONE about how cushy it is. Because it's never cushy.
Sure, there are stages of the game at which you have improved conditions under which you get to attack some of the problems, and those improved conditions can make the stress a little less severe than it was when you were trying to figure out how to pay rent between copy-credit-meals gigs and your three survival jobs, yes. But to behave as if there's NEVER a bump in the road, there's NEVER a change that takes your breath away for a moment, there's NEVER a tear shed over the fear that keeps you up at night is to LIE TO EVERYONE and that's just not cool.
I'm certainly not saying that everyone needs to share all their trials and struggles, every bitch and moan, every stubbed toe and every near-miss along the way. Of course not.
We are all engaged in the "dreams come true" business, here in Hollywood, and that means we HAVE TO sell the dream. We HAVE TO make that red carpet look gorgeous. We HAVE TO remember that there's a reason Hollywood Blvd. is actually paved with crushed glass in the mix, so that the street itself *sparkles* when light lands on it! We are IN the dream business. So, of course, we have to do a bit of spin even on our own lives when we might rather mope about.
But there's a difference between putting it all out there and putting some of it out there and putting nothing but spin out there, right?
Remember when you see it looking so easy that you're observing not just spin but an outright lie much of the time. And when someone shares nothing but the hardships, that's false too. Because there are ups and there are downs and everyone has all of them. I promise you.
So when you see someone sharing the good and the bad, the happy and the sad, the blissed out and the mad, THANK THEM. For they're trusting you to know what's real and not let it scare you off from your pursuit. They're staying human. And human is way better than FANCY, if you ask me.
Stay real,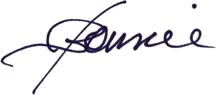 ---
Bonnie Gillespie is living her dreams by helping others figure out how to live theirs. Wanna work with Bon? Start here. Thanks!
(Visited 125 times, 1 visits today)