I know.
You're already thinking, "Yeah, right, Gillespie. Like YOU'RE gonna fix my money anxiety. Pff. Okay."
Go with me a sec, wouldja?
See… after a convo with Ramit Sethi (yes, that Ramit Sethi), I reflected on a time in my life — a time not too long ago — when I would spend hours hunting for free MP3s of songs I wanted to have in my iTunes rather than ponying up the $1.29 per song.
Think about this.
In an hour — an hour during which I could create a thing I could sell for a few bucks or, if I had a coaching client booked, an hour in which I would earn hundreds — I might perhaps find two or three illegal MP3s, but more often than not, I'd frustratedly find dead ends, not-good mashups (OMG, good mashups are SO good though), and I'd actually end up spending HOURS in search of songs that would've cost me *maybe* 20 bucks to buy legally.
But I didn't have 20 bucks.
So I would spend an all-nighter using time in which — had I been in a place of less anxiety about money — I could've created something like any one of these downloadables that, when sold ONCE, would've more than made up for what I saved by not legally downloading music I wanted.
Also, I just really felt like shit stealing music.
Because my life's work gets stolen all the time.
People share passwords, forward downloads, steal my books right off bookshelves in stores. Money gets taken out of my pocket in ways that make me VERY *karmically* uneasy about doing illegal downloads.
Yet I did it anyway.
Because I was so tweaked about money at the time.
And that anxiety is hardcore.
Of course, if you've been there, you know this.
You know it all too well.
And that's why I want to share with you the way out. Because the way out comes before the bank balance increases, before the debt diminishes, before the *actual* problem is solved.
Yup… like with most things, the mindset, the emotional tethering, the vibe of it all has to shift FIRST.
So here's how to start.
Remind yourself that you won't always be in this place.
No, really. It's that simple. You won't always be in a place of anxiety and stress and fear and overwhelm and powerlessness about money (or about anything, really). You can't *always* be in any state about anything except by your own choosing.
Because our very cells — trillions of them — are regenerating constantly, some of them becoming completely replaced many times over in our lives, meaning when we say things like, "I am what I am; I'll never change," we're flat-out lying to ourselves and to others.
What we're actually saying is, "I like things the way they are more than I like leaning toward something else." Period.
And that's okay!
If we like where we are, who we are, and how we are.
If, on the other hand, we spend a lot of time anxious about our situation, fearful of how things are gonna turn out, or otherwise in states of displeasure about ANYTHING, simply reminding ourselves that we're changing — right now — and therefore these conditions and situations can change WILL ease some of the stress!
Let me give you another example, in case the vision of me — someone who churned out the brilliance that is Self-Management for Actors in a matter of WEEKS — spending precious hours searching for free music online or sitting in the floor wrapping coins to take to the bank so we could make rent RATHER THAN doing something like, oh, I don't know, spending those hours building something equally brilliant that could *also* pay our rent for decades to come weren't enough for ya. 😉
Earlier this year, someone who was — and I guess technically still is — a total stranger to me plopped down a significant sum of money to work with me. Or, I should say, to have access to a membership program "for life," more or less.
You may recall that late last year, we announced our revolutionary 100-day challenge program Get in Gear for the Next Tier, which has gone on to change the lives of hundreds of ninjas who have come inside The Dojo to jam with me on the daily through issues of mindset, business practices, brand brilliance, relationship-building, money, and probably my very favorite: self-care.
Okay, so an actor who is having success like never before sent through enough to enroll in — and stay in — this program for a looooooong time… and of course, as would happen with any total stranger basically shifting my perspective of what to expect from people out there, I felt compelled to ask some questions. Ah… turns out this actor spent quite a bit of time in his "rolling coins and downloading illegal music" days consuming for free my life's work.
Much of it, he consumed for free because I make it free. Um, duh. You've tried the "Google ANY actor question plus Bonnie Gillespie" trick, right? I make a LOT of my life's work available for the price of time.
Because I know — when you don't have money, you'll make time… time you could spend rolling coins or searching the Internet for free music you could pay a buck-twenty-nine to download legally.
I've been there.
But some of my life's work, he had gotten not-so-legally. And he always felt like crap skulking around, hoping I wouldn't catch him. Hoping the karmic ditch he was digging wouldn't bite him in the ass. Knowing he really wanted to make it right. KNOWING his situation was going to change and, when it did, he *would* make it right.
This is his way of making it right.
This, and thanking me when he holds up something gold and shiny. Because he knows my work helped him get past the black tar of mucky, painful brain-cloud crud he was stewing in before he found SMFA.
I remember the first time someone told me, "Keep it," about money I was going to refund them. An actor who had registered for our SMFA Retreat — OMG, BTW, if you didn't get my email earlier this week announcing registration is open for our final LA event of 2017, please go get your spot NOW before we fill up — ended up booking a gig and couldn't make it. I told her we could either hold her registration for the next event or kick her a refund. She said, "Keep it!" and I was shocked. I was uncomfortable. I was so used to living in a space of, "Aren't we ALL sitting in the floor rolling coins and staying up all night downloading illegal music on the dark web?" that it didn't occur to me that there was any other way to be.
But it turned out this actor "had the money" and — similar to the actor who earlier this year paid "lifer level" membership — wanted to thank me with a tip more than she wanted the couple hundy back.
As often happens when I'm feeling uneasy about something, I sat with the discomfort of that. Why was I so freaked out by this choice? Why was it so WEIRD to receive "free money" when I hadn't DONE anything for it?
Of course, my brilliant husband would point to my bajilliondy free resources and say, "Um… you've done plenty for this. Say thank you. Move on."
But — like many people — I had money blocks and that meant I had a lot of discomfort around accepting money from someone who DIDN'T have money blocks.
So, I decided there are two ways to fix that.
Never again accept money from someone who has a healthier money mindset than I do.
Fix my frickin' money mindset!
You of course can see what I chose to do, because I might as well be a freakin' magnet for prosperity at this point! Yay, me!
I share this with you because it started just like this: Instead of being uncomfortable when dealing with people who had a healthier relationship with money than I did, I became curious. I combined KNOWING that we are all capable of change with a sense of fascination about this reality that exists out there… one in which the anxiety is so low about saving a buck-twenty-nine that I would never even CONSIDER Googling to find a free version of a song I love to play.
Now, when we're thick in the anxiety of that reality, it feels miles away that we could ever feel differently. We push back HARD about a future version of us who not only gives no second thought to paying to download music but who doesn't kick herself for paying to download a song SHE ALREADY BOUGHT. (Yeah, that's been me, in a hurry… and I might *possibly* still be working on the "not kicking myself" part because, um, it's a waste and shouldn't iTunes TELL YOU "Hey, you already have this song, doofus!" before letting you pay for it again?!?) *ahem* Back to my point. 😉
I'm not asking you to do a 180 here. That's impractical and it pretty much sets you up for failure when you think you can be the exact opposite of where you are now on ANY subject.
That's not just CHANGE; that's whiplash. It's not sustainable. It's unkind to your sweet heart to put yourself through that.
What I'm suggesting you try — simply try — is KNOWING there's a future you with a better relationship with money (or with ANYthing; seriously, this works with every subject under the sun) and combine that KNOWING with curiosity about how it would feel to be just slightly less anxious about things in this area.
You don't go from stealing music to suddenly dropping thousands on a massive music catalogue. You go from stealing music to enjoying the feeling — before the money is there — of what it'll be like when you just click "download" on the $1.29 purchase and move on with your day, allocating that time to something more wonderful you can do than feel anxious and stressed.
And if you think you can't possibly enjoy a feeling that isn't there, I'll ask you to tell me what it is you say you ARE. You're an actor, right? A storyteller? A writer? A content creator?
Welp… then I've got you on this issue. Because your JOB is to enjoy feelings that aren't really there.
And make them so real that others believe them too.
Damn.
There's no question this is possible.
I'm living proof.
So will you be, once you try leaning into it just a wee bit.
Try it and then lemmeknow how this is going for you. Comments are open below. Dive in!
See you at the bank!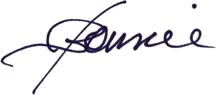 ---
Bonnie Gillespie is living her dreams by helping others figure out how to live theirs. Wanna work with Bon? Start here. Thanks!
(Visited 294 times, 1 visits today)