I've noticed a trend in my life lately.
I'm entering into my favorite establishments (Juice Served Here, Burke Williams, etc.) and explaining how I want to feel, first and foremost.
I'm not making a list of things I want to experience. I'm certainly not listing results. I'm not walking in with an agenda about what's going to happen.
(Insert your own self-talk for auditions or meetings or anything else high-stakes right here, y'all.)
I'm making a list of feelings I hope to have.
And folks are getting really good at suggesting what might lead me to those feelings… and that openness is filled with "rightness." It's shockingly simple yet amazingly effective.
So here's what I've come to.
I think there are two questions about feelings I need to ask before taking any action.
How do I want to feel?
How do I want others to feel?
How do I want to feel? — Almost always, the answer is: "filled with joy, elated, purpose-driven, happy, GOOD." Something in that range.
How do I want others to feel? — This changes, but the majority of the time it's: "connected, empowered, equipped with information, challenged to do something with it, INSPIRED." Yeah.
I'd like to challenge you to have a think about how you make others feel with your art, with your words, with your craft, with your talent, all the way down to your dang cover letter.
(Think about it. Rather than listing off all your recent bookings, goals for next season, and highlights of your training, what if you crafted a cover letter with the goal of leaving an agent feeling, "Wow. This is a total pro. I can send him to any casting director. He's a booker" instead?)
We so often get into the me-me-me of it all and approach situations from a place of what *we* hope to achieve. I'm not suggesting we turn that off, but maybe let's bring into the equation what it is we hope to feel… and what we'd like others to feel after having left this encounter we're about to share.
Hell, if we center ourselves and remember that what we say we want to achieve may very well have more to do with storytelling and leaving the world a better place — and less to do with bookings or earnings or instant results — we may line up beautifully with exactly where we're meant to be.
Give it a try. See what putting feelings first with these two simple questions might do for your creative — and personal — journey.
And lemmeknow, will ya? 🙂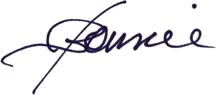 ---
Bonnie Gillespie is living her dreams by helping others figure out how to live theirs. Wanna work with Bon? Start here. Thanks!
(Visited 180 times, 1 visits today)