Charlsie (May 11, 1933 – December 28, 2000) would've hated this photo.
She would've been mad at me for sharing it. She would say that Art looked good but then she would provide a list of everything wrong with her from her crooked teeth to her puffy neck to her hair in need of a touch-up.
My sweet mother struggled her whole life with her enoughness. A Depression era kid with a country twang and minimal education, she struggled with money issues, impostor syndrome, and body image.
What she never struggled with is love, communication, and authenticity. Her quest for more caused her to live as a seeker. She hungered for knowledge. She was always studying… people, books, nature, spirituality… and she had a laugh and an embrace I still hear and feel even though she's been gone for 17 years.
December 28th is always challenging for me.
December 29, 1998, was when I dropped out of my PhD program and moved BACK to Los Angeles to give acting one more shot… so I wouldn't wake up 40 wondering "What if…?" about my life.
In the two years I was back in LA before Momma died, I became myself. The Age 28 Epiphany in 1998 set me straight about my life's work and before Momma died, I had established myself as a force in Hollywood.
I had begun interviewing casting directors. I had held my first Emmy. I had signed with my agent. I had begun living MY life without concern for what others hoped I would do with it… something my own mother didn't do until she was the age I am now.
Wow. Doing the math on that is staggering.
As I reach successes like never before, as I build my empire with love and empowerment for so many artists and their dreams, as I confidently lavish self-love upon myself as if IT is the most important part of my job (because it is), I both wish Charlsie were here to experience the gifts I could share with her AND know full well that I'm capable of such magic because of her influence in the non-physical.
As I hear Esther Hicks speak the wisdom of Abraham, often using words or phrases that were uniquely my mother's, I hear the laugh; I feel the embrace.
And even though Momma would kill me for sharing a rare photo of her, I'm doing it. Because I see LOVE. 💫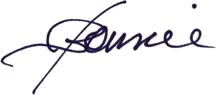 ---
Bonnie Gillespie is living her dreams by helping others figure out how to live theirs. Wanna work with Bon? Start here. Thanks!
(Visited 97 times, 1 visits today)