What is the Great Southern Food in Southern California Challenge? Click here for the low-down. Want to see reviews of all stops on our tour? Same link. Wanna see any photo below, only larger? Well, click it, for heck's sake!
Our fourth stop on the GSFiSCC was Chef Marilyn's Soul Food Express, 5068 W. Pico Blvd., Los Angeles, 90019.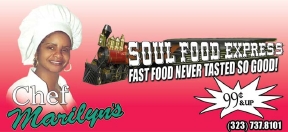 Technically, Chef Marilyn's was supposed to be the third stop on the tour, but when we arrived at the restaurant for our dinner Tuesday night, we learned that Chef Marilyn's is NOT a restaurant.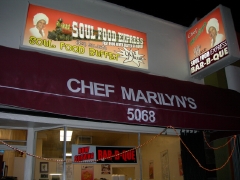 Photo by Masasa.
Nope. It's a takeout joint.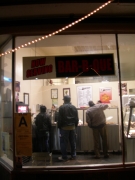 Photo by Masasa.
Now, maybe I should've picked that up by "Express" in the name of the joint, but seriously, shouldn't "takeout only" be mentioned somewhere on the flippin' website? Crazy! I combed all through that site and saw no way I could've figured out we'd be entering an establishment with no chairs or tables. I just thought "Express" meant fast. Ah… lesson learned.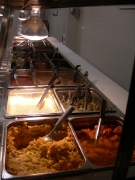 Photo by Masasa.
So, because of our discovery upon arrival — and not wanting to lose out on a tour stop — we wandered down Pico to Roscoe's, which became tour stop number three (see previous entry). And, not wanting to give up on Chef Marilyn — especially because that food looked and smelled so good — we each bought a little takeout and did our critiques of the cuisine from home via email the next day.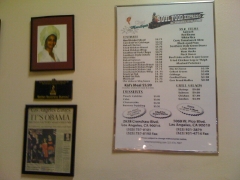 Joining me for the fourth stop on the GSFiSCC were Eric, Masasa, Ryan, and Susyn. We were all excited about our little styrofoam containers of southern cookin' and probably could've stood right there and eaten, if we had to. Luckily, the food travels and reheats well. 🙂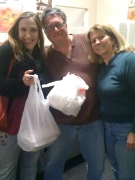 Here's Susyn's review of Chef Marilyn's food:
chicken legs: falling off the bone good
meatloaf: great
collard greens: yum, with a kick stronger than Roscoe's
yams: scrumptious
mac and cheese: yum
corned beef and cabbage: really good, with a nice kick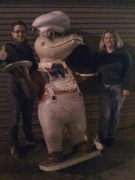 You may recall that I mentioned in the last post that Susyn told us about something called "chicken bog." Here's the scoop on that! "The official description is it's a conglomeration of rice, spices, and chicken, topped with bacon. It is a South Carolina delicacy cooked in a pot, which gives it that boggy, soggy name." Sounds awesome! Maybe our tour needs to include a good ol' fashioned home cookin' stop!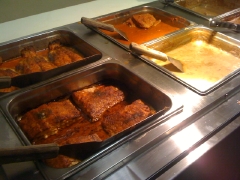 (Ooh, how I wish I had been hungry enough to order some fish. It looked sooo good.)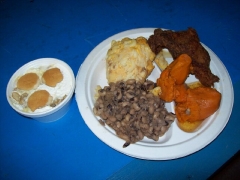 Photo by Eric.
Here's Eric's review of Chef Marilyn's food:
Out of the microwave ('cept the banana pudding) at 12:36.
35 minutes later. Damn, that's gooooooooooooood mac and cheese! ♥
Oh, I probably would have finished off the chicken bones too, but i did need to make room for the banana pudding. 🙂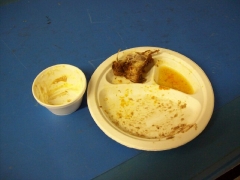 Photo by Eric.
Hee! That did look good. Eric was so pleased to be able to get his CRISPY mac and cheese. He even asked for extra crispy edges and they scooped out more for him!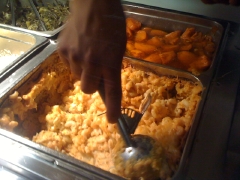 More, please!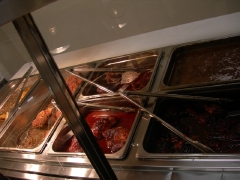 Photo by Masasa.
Here's Masasa's review of Chef Marilyn's food:
I stand by my aversion to meat floating in juice, and my hot link experience did not sway me from that philosophy. As for the sides, I say "PLEASE, Chef Marilyn, can I have some more?" I got a plate of greens, yams, cabbage, and mac and cheese. Back in the day, Scoe's used to have my most favourite mac and cheese ever, but sadly in recent years, I have found theirs to be lacking in the cheese department. There's nothing worse than a "cheese tease," I always say, so I actually stopped ordering it from Scoe's all together. Having said that, Chef Marilyn has MASTERED the art of mac and cheese! And from now on, should I happen to have a craving, I know just where to go.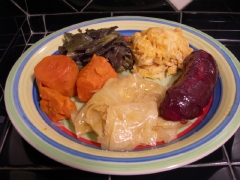 Photo by Masasa. (Her review continues, below.)
After having paid proper homage to the cheesy carbs, I moved on to the veggies, and I was not disappointed in the least. Each one was perfectly seasoned and had just the right amount of love. Although I prefer my cabbage to be a little more al dente, the seasoning and other veggies mixed in made up for that. I finished my feast with the candied yams and they were like a yummy little dessert, they were so good!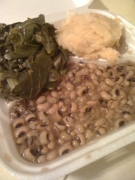 As for me, I ordered collard greens, black-eyed peas, and mashed potatoes. $4.50. And the helpings were huge. Seriously, two days of leftovers, here!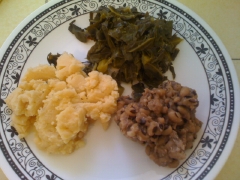 The collard greens were peppery and delicious. Black-eyed peas were exactly like Momma used to make, and I didn't think I would ever be able to say that about anybody's beans! They were awesome! The potatoes were fine. Nothing terribly special. Still, good eatin'.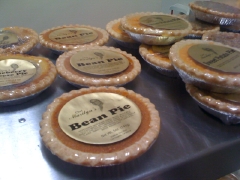 Let's see how Chef Marilyn's measures up, in the criteria I set out when issuing this Challenge.
Absolutely. Super yummy!
Is the eatin' authentically southern?
For sure. No question about it, this is true southern food.
Absolutely! There's a whole section of 99-cent specials and it's a ton of food you're getting. Holy crap, what a great deal!
Does the staff make you feel like you're sittin' at your grandma's table?
Well, no, because there is no table. But you're welcomed and joked around with and encouraged to call in orders for free delivery. (I asked, "How far will you deliver?" "Anywhere, if you order enough," was the reply.)
Is the place worth visiting, if you grew up on the type of food they say they make?
Sure thing! Just be sure you have a next destination, as you will not be able to eat your food here. I imagine a catering situation would be pretty wonderful.
How does it measure up to other stops on the GSFiSCC tour?
I actually stopped at Miss Peaches for a piece of butter cake last night and, yep, they're still in the lead for service, atmosphere, food, and best overall experience. And, yes, I told Connell that was the case. He wasn't surprised. In fact, he has invited us back for a Sunday book signing and "high-end food" event (coming soon). Everyone who is currently on the southern food mailing list (via Facebook) will be invited. Food will be free, but you'll have to buy a copy of Connell's brother's book. 😉 Be ready! The items he's talking about fixing sound outrageously good.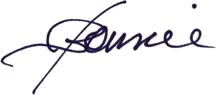 ---
Bonnie Gillespie is living her dreams by helping others figure out how to live theirs. Wanna work with Bon? Start here. Thanks!
(Visited 556 times, 1 visits today)