What is the Great Southern Food in Southern California Challenge? Click here for the low-down. Want to see reviews of all stops on our tour? Same link. And click on any photo below to enlarge it.
Our second stop on the GSFiSCC was South, 3001 Wilshire Blvd., Santa Monica, 90403.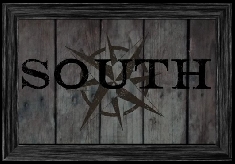 South is the creation of four young guys who clearly enjoyed the frat hangouts of their college days (and beyond). A couple of 'em did time in the south, and that's what they've focused their menu upon. It covers a few states' favorites, rather than trying to stick to one specific southern cuisine, but really, South is a sportsbar, first and foremost. The fact that you can get a good southern dinner there is a bonus.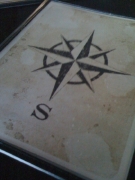 I arrived promptly at 4pm (their happy hour runs weekdays from 3pm to 8pm. Awesome, right?) and told the manager that we would be a party of… well… it was hard to know, as RSVPs were flipping back from YES to NO all through the day. I also told him we may have drop-ins over the next few hours. So, it could be me alone for an hour and then maybe a dozen folks by the time we were all assembled. But nothing formal. Nothing official.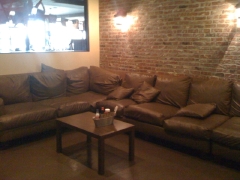 The manager awesomely offered me the private room. Three flat-screen TVs mounted there, plus a very cool — huge — leather sofa, and two little coffee tables. Problem was, we were looking to eat meals, so I figured having a real table situation would be best. Otherwise, that's a badass room. So noted. Anyway, the manager happily put together a couple of tables and brought over a few extra chairs and our guests began arriving (and kept arriving through 9pm, when we called it a night).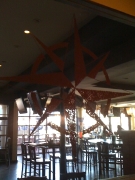 Now, this was the "deadest" I've ever seen South. I've been there quite a few times and it's always loud and full and overflowing with high-spirited whoops and hollers at the various games on TV (or games of flip-cup and beer pong and team trivia going on). But I guess with this being a holiday (Presidents Day) and starting a little on the early side, we got the place to ourselves for a good part of the evening. The manager encouraged us to join him tonight (Fat Tuesday) for alligator meat and loads of fun. He was decorating the space with Mardi Gras colors and props. Looked like it'd be a blast.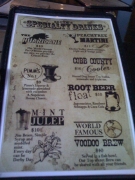 Joining me for the second stop on the GSFiSCC were Cristina, Curt, David B., David M., Julie, Kathi, Masasa, Mason, Matthew, Mike, Ryan, and Shirley. Biggest difference between South and Miss Peaches (our first stop on the tour) is the presence of booze. Plenty of it.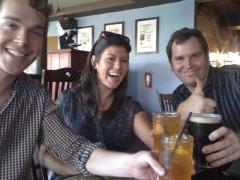 Plenty of it.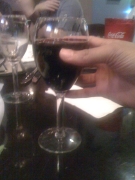 But let's get to the food, since that's what this whole thing is about.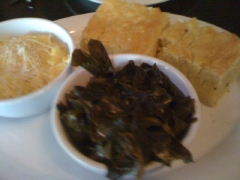 This was my order: creamed corn, collard greens, and jalapeño cornbread. The greens were amazing. I gave away 2/3 of my corn and 1/2 of my cornbread (but to be fair, these were really large portions, and I ordered a sharing plate of fried stuff, so I was plenty full). Everything was delicious and of very generous portion size.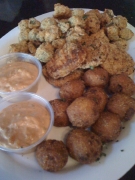 The "plate o' fried" that I ordered. Okra, fried green tomatoes, and hush puppies. Dang, that was some good stuff. Glad folks shared this platter of gluten overload. (Well, the okra and fried green tomatoes — like the fried shrimp in Marc's shrimp po' boy — were breaded in corn meal, but still. I got more than my share of wheat gluten, for sure.)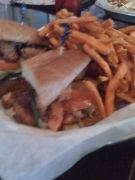 That's Marc's fried shrimp po' boy with sweet potato fries. Um, yum.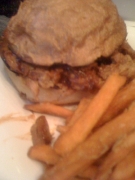 Ryan's pulled-pork sandwich. (He said the bun was not good, so he ate it open-face. Quote: "I don't eat bad buns.") Note: When we had a conversation about vegetarianism, Marc was quick to quote his dad, saying, "Once the pig is in you, it's in you for life." Yeah, baby. That's good stuff.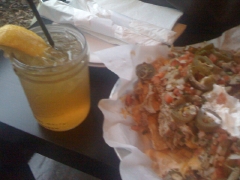 I, of course, am a huge fan of the pulled-pork nachos at South. (This photo is from a visit last year, with fellow southerner Camille.) Since I get these every time I'm here, I opted out, but at least four people at our table did go for these, and they were not disappointed. "Thumbs up to the pulled-pork nachos," Mason said. Honestly, I think what makes me love 'em so much is that they're made with baked beans, not refried or black beans. Holy cats, that's good stuff!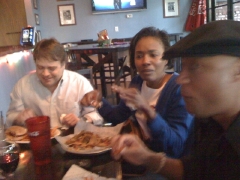 As awesome as the food was, we also just had a good time. Lots of laughs, just like at our first stop on the tour, although this time we were the entertainment, rather than the restaurant staff providing the giggles (they, at best, were impolite — except for the very accommodating manager who greeted me upon arrival. One of the toughest elements was that there were several changes in servers in the five hours we were there. That's not unexpected, but it caused some mistaken charges on the night's bill, and inconsistency of experience).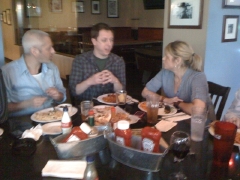 Still, that was minor stuff. We had fun, dangit. And some folks even played a few games of pool…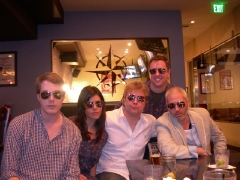 …and posed in mirrored sunglasses. It's like they planned this or something! (Photo by Masasa Moyo.)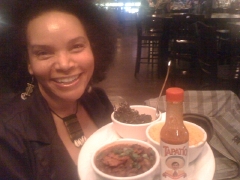 Masasa said, about her cheese grits, which she enjoyed along with collard greens and red beans and rice (and hot sauce, of course), "Best cheese grits I've ever had." Awesome!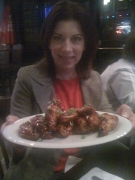 Kathi got wings. And so many of 'em! Seriously, the portions at South are plentiful, y'all!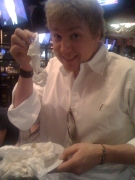 And the napkins were plentiful too. (Thank goodness!)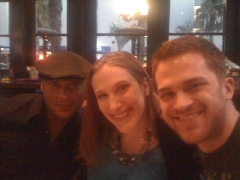 We really had a good time, despite ambiance that wasn't awesome, according to some. "It's a zero or negative five," Ryan said. "I feel like I'm stuck in an airport waiting for my next flight," Masasa contributed. Definitely we craved knickknacks on the walls and more southern music, and the fact that some glasses were glass while others were plastic was weirdly annoying, but, hey, in the end, this is a sportsbar. It's about what you'd expect in that respect.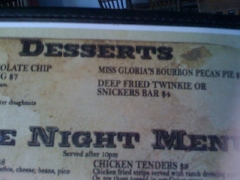 Sadly, no one ordered dessert. No deep fried Twinkies. No deep fried Snickers. So, I can't even tell you what those things look like. I kind of want to see 'em! So, we'll go back. Also, no one ordered fried pickles, so I can't tell you about those either. What I can tell you is that eight items on the menu are half off during the five-hour-long weekday happy hour. And drinks are cheap then too. Very not bad!
So, let's see how South measures up, in the criteria I set out when issuing this Challenge.
Definitely. Just like with Miss Peaches, it's good, it's plentiful, it's delish!
Is the eatin' authentically southern?
Pretty much. I got my fried okra and fried green tomatoes (which I was missing at Miss Peaches), and if you're into New Orleans' southern food, they've got you covered. Into Texas' southern food, roger that. Into Georgia's southern food, that one's good too. I think they've done a good job offering a little bit of everything you might want, at least that seemed to be the case at our table.
Definitely. Especially during happy hour. Of course, I had told the manager that we'd settle up our check all together, but during the several change-overs of personnel while we were there (and because members of our party were arriving and leaving all throughout the five hours I was there), checks were separated out, so I don't have any clue what our overall bill was. Anyway, my three sides were $15 (and way too much to eat), plus the three fried sides were $13 (ditto). Drinks were five bucks each, due to happy hour. All good.
Does the staff make you feel like you're sittin' at your grandma's table?
Only if your grandma is Bear Bryant.
Is the place worth visiting, if you grew up on the type of food they say they make?
For sure! But be prepared: It is a sportsbar. If you're coming for dinner, just know there are many different sporting events on many different TVs, the music is blasting, and as the crowd thickens up the people get loud too. It's just that kind of place! So, for what it is, absolutely, it's a fun stop on the tour.
Since we've now made multiple stops on the GSFiSCC tour, I'm adding one more question to the mix:
How does it measure up to other stops on the GSFiSCC tour?
Miss Peaches beats South, hands down, for service. Kitschy atmosphere at Miss Peaches beats the college-town frat bar feel of South, for my taste, but that's just a difference in style, and you really wouldn't choose South if you were in a Miss Peaches mood (or vice-versa). Both restaurants rate as tops, as far as food as concerned, and that's really the bottom line. Go to Miss Peaches for supper at grandma's. Go to South to snack, drink, and watch the game with the Pi Kappa Alphas.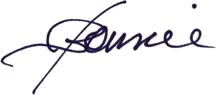 ---
Bonnie Gillespie is living her dreams by helping others figure out how to live theirs. Wanna work with Bon? Start here. Thanks!
(Visited 366 times, 1 visits today)