On this day, fifteen years ago, I showed up at Rick Case Mazda with $5000 and my fingers crossed. I'd been saving for over a year while bartending and attending my first year of college. I had wanted to buy my brother's old BMW but he wanted it paid for in three years, making payments way too high for me to afford. So, I started looking at new cars… and since I'd always loved the RX-7, when I saw the Miata (in a brochure; they hadn't actually brought any to the states yet at the time), I thought, "Oooooh. Pretty!"
Here I was, just-turned 19, thin, stacked, with butt-length curly red hair and a year of college under my belt. I was soooooooo hot for this car. I put it on order (with $500 down, as required) back in early July 1989. They started arriving soon after and mine was due in mid-August. I called or showed up at the dealership every day in August. I was READY for my baby. When 11 August 1989 rolled around, my dealer told me the white Miata "A package" with limited-slip differential that was on the lot was NOT mine. Luckily, the 60-year-old man trading in his vintage VW bug was not pleased with the offer for trade-in and stormed off the lot. That car was MINE.
The name "TicTac" didn't come about until grad school. By then, the car I'd financed at 12.5% APR (ouch! Love those '80s) had been refinanced and paid off in full and had made a trip to Los Angeles and back (neither time on its own wheels). I'll never forget the day I went into NationsBank (originally C&S) and made the final payment. I got back in the car with my best friend John, who was videotaping the event, and started taking inventory, "This is mine. This is mine. I own this. I own this too!" Oh, so much fun!
This car has protected me from bodily harm while taking on its own damages in several accidents. Bless its little heart. Brought back from the dead in 2000 after the insurance company called it totaled (pff. Don't you EVER tell me a car with $4700 in damages that still has a Blu-Book value of $6500 is totaled!!), the TicTac has purred like a kitten and doesn't complain when I start it up every now and then and then push it hard the way it loves to be pushed.
I still giggle every time I pass a parked car whose car alarm chirps a warning that the throaty exhaust of the mighty TicTac has set off its sensors. LOL It's the little things, really.
Still a favorite photo, from our days in Athens, GA, is from the UGA Homecoming Parade, 1996. The official float of WUOG was the TicTac — equipped with banners, two redheads, and DJ Kitty! That's style, baby!
Ah, my little baby… what a great 15 years we've had!
Oh, and to the two friends I've met more recently in life who share the TicTac's birthday… HAPPY BIRTHDAY Dawn and Mitchell. I love you both. The TicTac loves you both too. 😉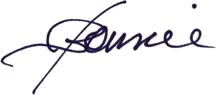 ---
Bonnie Gillespie is living her dreams by helping others figure out how to live theirs. Wanna work with Bon? Start here. Thanks!
(Visited 143 times, 1 visits today)