I was interviewed for a podcast last week (my dear friend Steph Gaudreau's Listen to Your Body podcast — the episode will premiere later this month) and the convo turned to one of my favorite topics: enoughness.
Y'all know that enoughness is at the core of everything we do in the world of Self-Management for Actors. Learning your type and brand is not about BECOMING something; it's about excavating it. Targeting your buyers or creating content is not about IMPRESSING anyone; it's all about leaving the impression that is accurate for who you are. Every audition, meeting, connection online, whatever… it's all an opportunity to just share exactly what you're about, nothing more. What comes from THAT? It's not up to you. Never was; never will be.
So, during the interview, Steph asked why it is that we have to do this excavation to get to our enoughness and the thing is, we come pre-loaded with enoughness. We're born with it. But at some point, the EXPRESSION of our enoughness got inconvenient for someone who was directly responsible for our survival.
Like, we got told, "You're too much," or "Be quiet!" or "Go away," or "You're too big for your britches," or my all-time favorite, "Who do you think you are?!?"
And we were at just a crucial enough age and stage of development when that landed — when the all-out FEAR that we were risking our own survival by continuing to express ourselves fully and authentically — that we did the only logical thing for our young brains: We tucked in our enoughness to be a more acceptable version of ourselves.
Then we encountered not just primary caregivers but also teachers and peers and other people we felt the need to impress… and we kept learning new ways to push down our enoughness. We began to feel shame for how much we LIKED ourselves. It became more acceptable — and expected — to not just dislike ourselves but actively (and publicly) hate ourselves.
And over time we got so much acceptance for what a good job of actively rejecting our enoughness we were doing that we found we could finally exhale about fitting in. And upon that exhale we really connected with a part of ourselves that hadn't relaxed in maybe decades. And that part of ourselves whispered, "You know this isn't who we are, right?"
If you're like me, you found really effective ways of shutting THAT voice up for a long time (vodka, sugar, overworking, abusive relationships, really cruel self-talk — those were my big five). But eventually, there's this curiosity. This interest in pulling at a thread that feels like it may lead to something.
And THIS is how we begin to excavate our enoughness. We get curious about who we are when we DGAF about what anyone else would prefer that we be.
For a little while, we'll actually think about this and go, "Hang ON! Have I built a life around being what everyone else needed me to be… and now here I am so freakin' far away from who I was born to be that I almost don't recognize myself?" And we may pile on those effective ways of shutting that voice up (again, that's the vodka, sugar, overworking, etc., for me) but then, again, we may find ourselves getting curious.
What would happen if I were to just KNOW that I am — exactly AS I am — enough?
Here's what I'd love to suggest, right now (and always).
GET CURIOUS. That's all.
Get curious about the shape your life would take if you were to sit fully in your enoughness. Get curious about how it would feel to be on your own side for a change. Get curious about things you were once told were none of your business.
We were hushed about our curiosity because it inconvenienced someone else. Eventually, there IS no one else. So if we've built a life around the convenience level of others, there's a moment down the line when we're unburdened by those others… and by then it's too late to ask what would've made us happy, content, at peace in life.
I'd love to hear how this curiosity feels to you. Comments are open just below! Give yourself permission to be curious. Try behaving in ways that feel native to your soul (even if you've tucked those behaviors in for a long time). I'm not asking you to stage a rebellion; just be curious… and open to what your enoughness wants to teach you about who you really are.
(In case you're looking for the punchline about your acting career, here it is: Everyone who "makes it" in showbiz, long term, has gotten down with their true selves. They sit fully in their enoughness. They publicly accept themselves for exactly who they are. Alllllllll the work you do trying to figure out your type and brand while you're ACTIVELY avoiding being your true self is the most futile of all actor busy work. It's why meaningful success pairs so well with authenticity. Once you get down with yourself, you're magnetic like never before. It's awesome.)
Sending you all my love, beautiful people! Let me hear from you. You've got this!
Much love,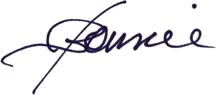 ---
Enoughness is an inside job… and sometimes you need a guide to find your way there. Let Bonnie Gillespie get you started.
(Visited 153 times, 1 visits today)