I saw a roundtable with showrunners in which the host asked each, "How are you different from when you were a kid?"
Like with most brandprov prompts, I asked myself the same question.
I came up with: I'm more unapologetically myself. I've always been like this; I just used to give a shit if you liked me because of it.
I used to *really* care about stuff like that.
But when I unpacked the boldness of the statement "I'm more unapologetically myself," I thought about how there was a time BEFORE I cared a lot about whether or not someone liked me in which I was unapologetically myself.
It's as though we start out truly who we are… then the socialization of school and acceptance and praise for being "good" or excelling at things shifts our self-concept as well as our self-love. We somehow feel "less than" for the exact things that we make us uniquely ourselves.
How messed up is THAT?
But then, if we're lucky — and if we're really lucky, early enough in life to allow us to be sane — we stop caring so much what others think about us. We just BE.
When I examine that the only major difference in who I've EVER been is the level of shit-giving I do about what others think, I'm pretty pleased. I'll admit I'm also sad for the times I even entertained the idea of making changes in order to fit in. The times I indeed played small rather than facing rejection.
Many of the years spent in my acting pursuit were spent in careful calculation for how I could be who I am at my core while maintaining that steady stream of praise that comes with doing what "they" say you must do to be accepted.
No wonder leaving acting behind felt like such a relief.
Oh, but wait! The life of a writer is no less rejection-filled than the life of an actor. To make a living as a writer is just as uncommon as it is to make a living as an actor — and much less fancy, since many people will consume your words but never even know your name. (Yes, the number of people out there who list Self-Management for Actors as a book that changed their lives but who have no idea who Bonnie Gillespie is is significant.)
Thing is, at some point over the past 15, 16, 17 years, I've felt myself returning to the very wee me — the one who IS more fully herself not because she has *EVER* changed but because she is almost completely uninvested in what she could change about herself to suit someone's opinion of her. (And she has switched to using third person, here, apparently.)
So I ask you: How are you different from when you were a kid?
You may have changed entirely and none of it may have anything to do with what you worry others may think of you. You may have a similar epiphany to mine. You may have a totally different take on this.
Whatever it may be, I'd love to know! BONUS POINTS if you have cute kiddo photos to share!
Stay inspired,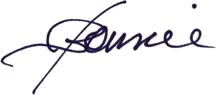 ---
Bonnie Gillespie is living her dreams by helping others figure out how to live theirs. Wanna work with Bon? Start here. Thanks!
(Visited 273 times, 1 visits today)