There's a very interesting conversation going on in my Expansive Capacity membership this month — and it's extending beyond the membership space and out into our real lives as we connect with one another socially and professionally. It's a compelling thought.
For most of us, growing up, we were never TAUGHT how to be happy.
We may have been taught how to be humble if we ever WON a contest or award. We may have been taught how not to be a sore loser when we weren't the winner. We were definitely taught how to keep our more extreme feelings to ourselves pretty much always. But not many of us were taught how to *handle* happiness.
And since as human beings we're wired to experience four times the negative emotions to positive ones (don't be mad at the brain, it's an evolutionary protective mechanism), we actually need to PRACTICE holding emotional space for things that feel good in our lives.
I know this. I've been doing lots of work in this area. So you think I'd be ready for it… but…
This happened.
*ahem*
Now, my enoughness level is high. I've done the (sometimes hourly, often inconvenient, definitely confronting) inner work of making that so. And I knew this day was coming… but I also had that wee voice in the back of my head saying, "You know they've made a mistake. You know you're going to show up and there's going to be this uncomfortable moment of, 'Ooh… ah… um… gosh, Bon. So this is weird…' because you got someone else's invitation and there's no Emmy love for you, girl."
Of course, I know well about this voice (I have a tattoo that's meant to remind me about it). That doesn't mean it doesn't show up now and then.
So we get to the party. I get my certificate. It's real. It's got my name on it. I am forever in the Television Academy's history books (and not just as a member of the Academy). I sign 100 posters. I pose for photos with the actors I cast in Artificial — the Emmy-winning series for Twitch. And after a while, I sit. And just take it all in.
At that point, Bernie — who was hosting an amazing celebration filled with virtual reality and carnival games and so many hugs and kisses and toasts and photos — looked at me and said, "You're so chill." And certainly, I was in stark contrast to the environment, I'd say.
"Just takin' it all in," I said. Of course, what was going on in my brain was a lot of making it feel safe to feel happy. Making it feel TRUE that this has just happened. Making a GOOD THING feel at home in my life.
Because unless we give success a safe place to call home, it's only ever a visitor in our lives. (Tweet it.)
One of the things that's become increasingly clear as I prep my free year-end training for y'all is that mindset is everything and if we're not training our brains to be able to RECEIVE all the good things we work *so damn hard* to get in life, we'll flirt with success but find it not STICKING for us.
Y'all, I'm gonna do three free webinars before the end of the year specifically designed for all the goodies you've told me would help you out in your creative career. They're all LIVE and you can sign up for one, two, or all three of 'em. Yes, they will be recorded. Yes, there will be a replay. And yes, there will be even MORE free training coming your way before 2019 comes to a close. You're welcome. 😉
I absolutely adore the work I see y'all doing and if part of your brain-training for happiness and success comes through any of the Self-Management for Actors and Enoughness work that we do together, that's the cherry on top.
Don't forget to register for the webinar, y'all! You won't want to miss this!
Much love,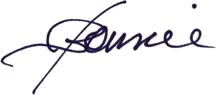 ---
Enoughness is an inside job… and sometimes you need a guide to find your way there. Let Bonnie Gillespie get you started.
(Visited 844 times, 1 visits today)