This stylish fella on the left is my grandfather, Edd. He's the one I'm talking about when I mention "The Ducktown 8."
💥
My grandfather blew up power lines and took part in other (sometimes violent) protests against unfair working conditions in factories, steel mills, copper mines… his actions led to the unionization of skilled laborers at a crucial, volatile time in our country's history.
🔥
My grandfather died before I was born but I heard lots of stories about how unpopular his disposition was. Like, he would be in jail, beaten during the arrest, and my grandmother — with three small kids at home — would be interrogated by federal officers, trying to get her to disclose incriminating details about Edd's involvement in the labor movement.
💪🏽
Of course, Cleo knew better. She stayed strong and would not — no matter how intimidating the circumstances — bend to the feds' demands for information. Even as they lied to her to try and extract details, she stayed strong and true. Never let her fear override what she knew was right.
❤️
Sometimes we know — at the time we are living it — that we're making choices that will define us, that will change lives, that will shape the future. I feel as though that's pretty much always true.
✨
We've got some big history to make, y'all. I pull on my inherited resolve, my genetic badassery, my unwillingness to sit by when there can be — and should be — a better way, and so much of that strength comes from stories about being unafraid to do what's right.
🔥
Here's to doing more things that set the world on fire!
Much love,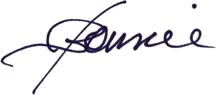 ---
Enoughness is an inside job… and sometimes you need a guide to find your way there. Let Bonnie Gillespie get you started.
(Visited 29 times, 1 visits today)